This supplement is specifically formulated for beef calves during and after weaning.
"This Fall we have been using the Vitalix® Feedlot Starter tub with NaturSafe and Availa®4 included. We are getting proper consumption on the receiving calves and morbidity and mortality has been reduced compared to last year. This tub is formulated to use for wintering calves on stalks or windrowed forages, and our turned out calves look full and seam to be growing well. It is an economical supplement that fits our needs well."
Tom Williams
Owner, Chappell Feedlot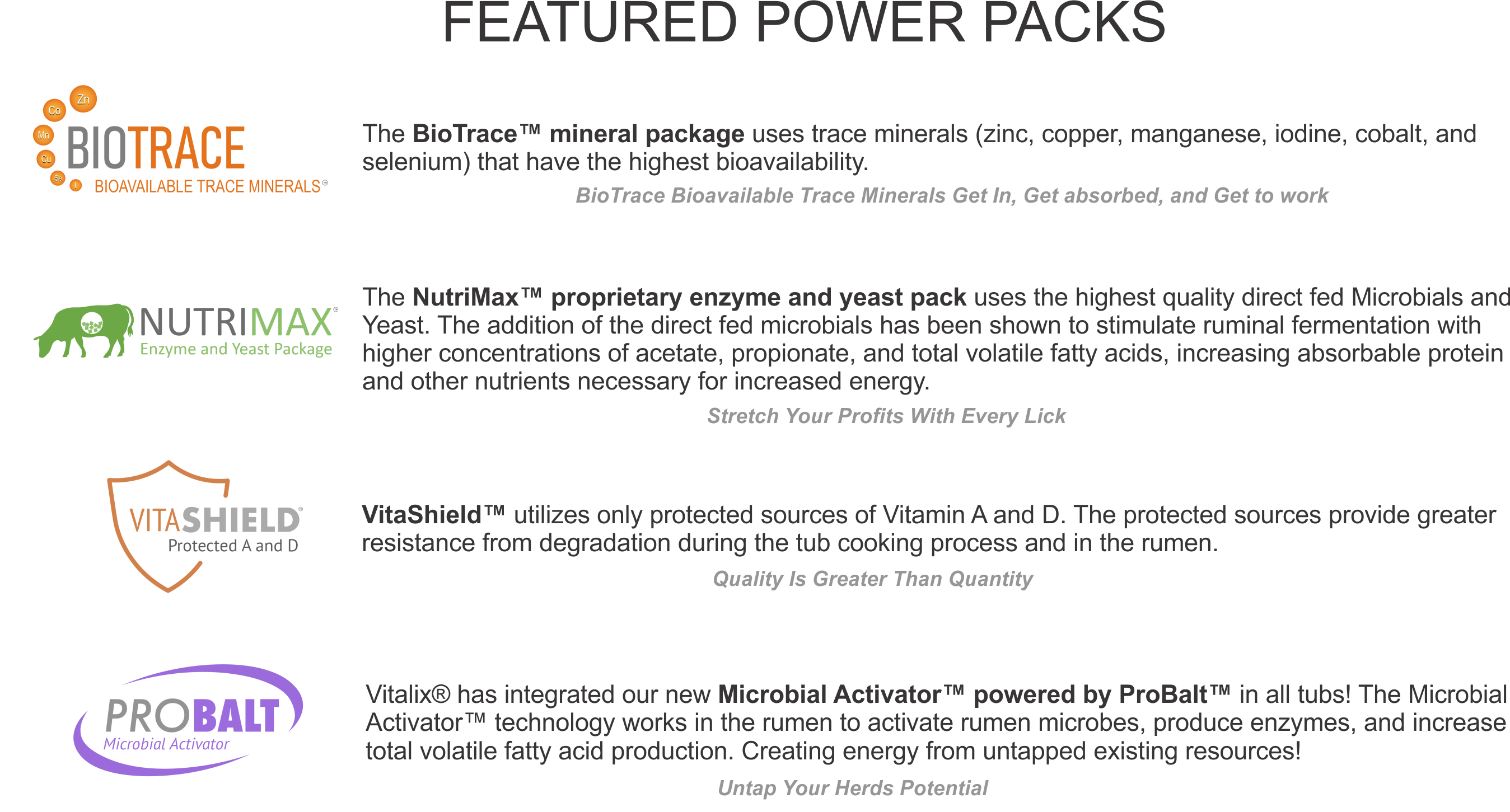 This tub is recommended to be fed the first 21 days cattle arrive at the feedlot to help reduce the impact of stress on those animals. It is strategically designed to get those cattle licking on the tub, encouraging them to drink water as well as go to the bunk and eat quicker than cattle which don't have the tub in front of them.
Decrease Pull Rates: Increased immunity and vaccine effectiveness through improved gut health.
Decrease Stress: Through behavioral tendencies by getting the calves to drink water, then driving them to bunk to eat.
Increase Saliva: Through the licking process to buffer the acids produced in the calves rumen.
The Feedlot Starter tub is packed with Diamond V's NaturSafe and Zinpro Availa®4.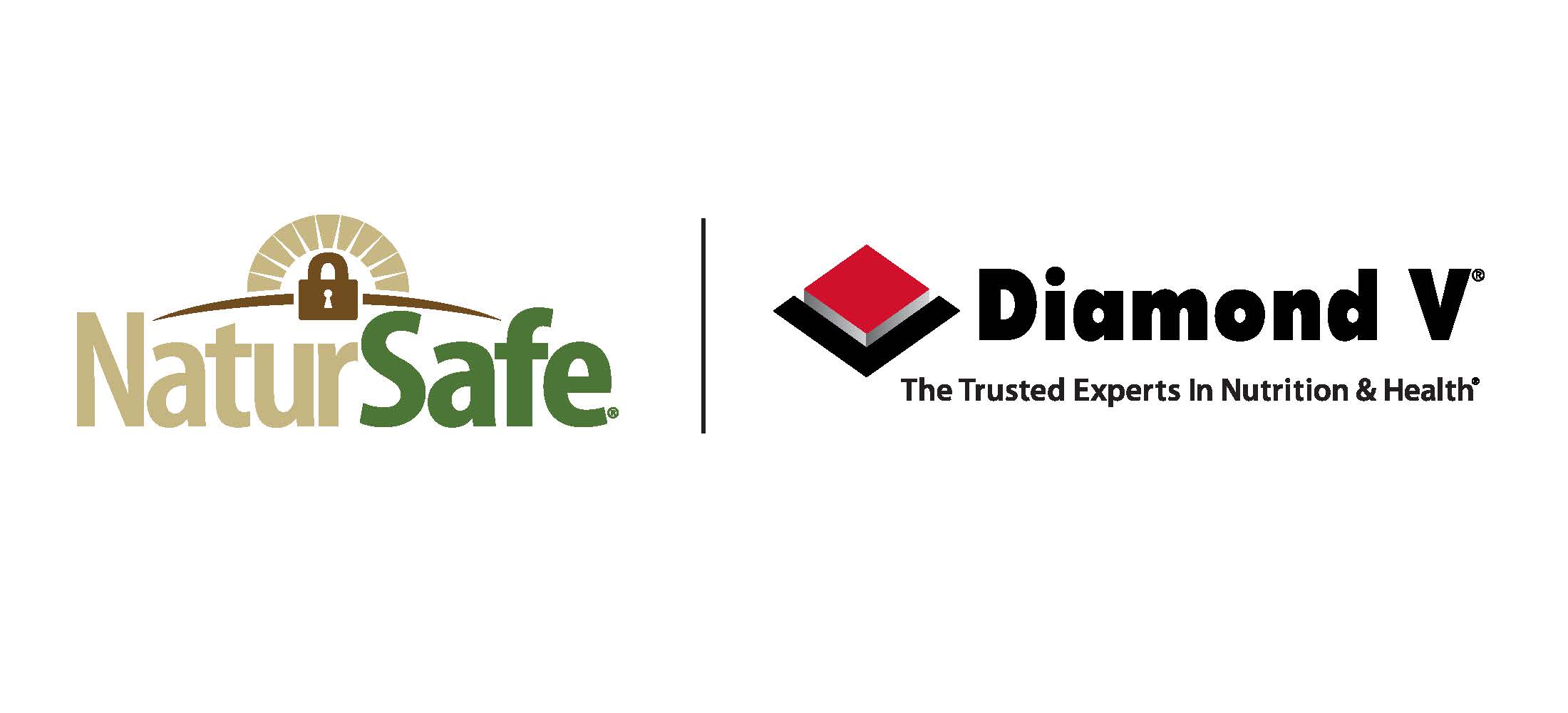 Diamond V's NaturSafe®, a functional ingredient, works with the animal's biology to support overall immune strength. Diamond V's products support health and performance, antibiotic stewardship and gut health.
Animal Health & Performance: Helps to maintain digestive health and rumen pH, supporting overall animal well-being.
Antibiotic Stewardship: Immune system support and overall animal health – part of judicious and responsible management in both conventional and 'all-natural' production systems.
Gut Health: Helps support normal, safe, and beneficial gut microflora.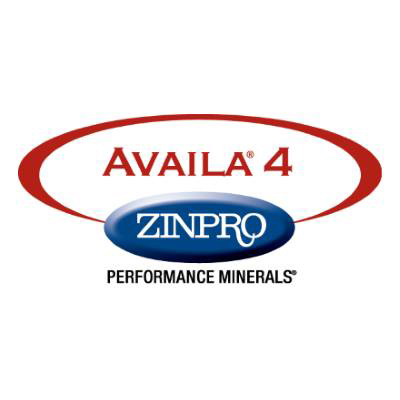 Availa®4 is a nutritional feed ingredient for animals that contains a combination of organic zinc, manganese, copper, and cobalt. These trace minerals are required by animals for numerous functions including:
Immunity
Reproduction
Skin and hoof integrity
Growth and muscle development
Fiber digestion
Energy metabolism
Availa®4 is built on a unique, patented molecule that consists of one metal ion bond to one amino acid ion – called a metal amino acid complex. Zinpro's performance trace minerals provide the highest biological efficacy of any trace mineral products on the market, which means more of the minerals are absorbed by the animal to deliver their full benefit.
| | |
| --- | --- |
| Tub Size | 250 lb., 200 lb., 125 lb., 50 lb., 20 lb. |
| Tub Materials | Plastic |
| Formulas Available | Feedlot Starter |
| Crude Protein, minimum | 20.00% |
| Crude Fat, minimum | 4.50% |
| Crude Fiber, maximum | 4.00% |
| Calcium (Ca), minimum | 2.00% |
| Calcium (Ca), maximum | 2.20% |
| Phosphorus (P), minimum | 1.00% |
| Potassium (K), minimum | 2.00% |
| Magnesium (Mg), minimum | 1.00% |
| Cobalt (Co), minimum | 35 ppm |
| Copper (Cu), minimum | 785 ppm |
| Iodine (I), minimum | 25 ppm |
| Manganese (Mn), minimum | 1,300 ppm |
| Selenium (Se), minimum | 13 ppm |
| Zinc (Zn), minimum | 2,500 ppm |
| Vitamin A, minimum | 200,000 IU/lb |
| Vitamin D3, minimum | 22,000 IU/lb |
| Vitamin E, minimum | 800 IU/lb |
| Ingredients | Beet Molasses, Vegetable Fat, Plant Protein Products, Processed Grain Byproducts, Monocalcium Phosphate, Dicalcium Phosphate, Yeast Culture, Zinc Amino Acid Complex, Manganese Amino Acid Complex, Copper Amino Acid Complex, Cobalt Glucoheptonate, Magnesium Oxide, calcium Carbonate, Manganous Oxide, Zinc Oxide, Vitamin E Supplement, Dried Aspergillus Oryzae Fermentation Extract, Basic Copper Chloride, Sodium Selenite, Yeast Culture, Minearl Oil, Ethylenediamine Dihydriodide, Cobalt Carbonate, Choline Chloride, Biotin, Folic Acid, Thiamine Mononitrate, Calcium Pantothenate, Pyridoxine Hydrochloride, Niacin Supplement, Riboflavin Supplement, Vitamin B-12 Supplement, Vitamin A Supplement, Vitamin D3 Supplement |
Feedlot Starter
Consumption: 1/2 to 1 1/2 lb. per calf daily.
As a Guide: put one 250 lb. tub out for every 20-25 calves. If consumption is over 1 1/2 lb. per head/day take out a tub; if under 1/2 lb., add a tub.