All-Natural Protein – 18% Natural Protein – 9% Vegetable Fat
This supplement is specifically formulated for mature and growing cattle being fed grass hay, dry grass pasture, corn stalks, or other roughages. #10 Breed Back contains a source of Omega-3 fatty acids, chelated trace minerals, and Vitalix® Proprietary Enzyme Package.
Contains Omega-3 fatty acids which enhance estrus activity and breeding, giving you higher conception rates and tighter calving windows.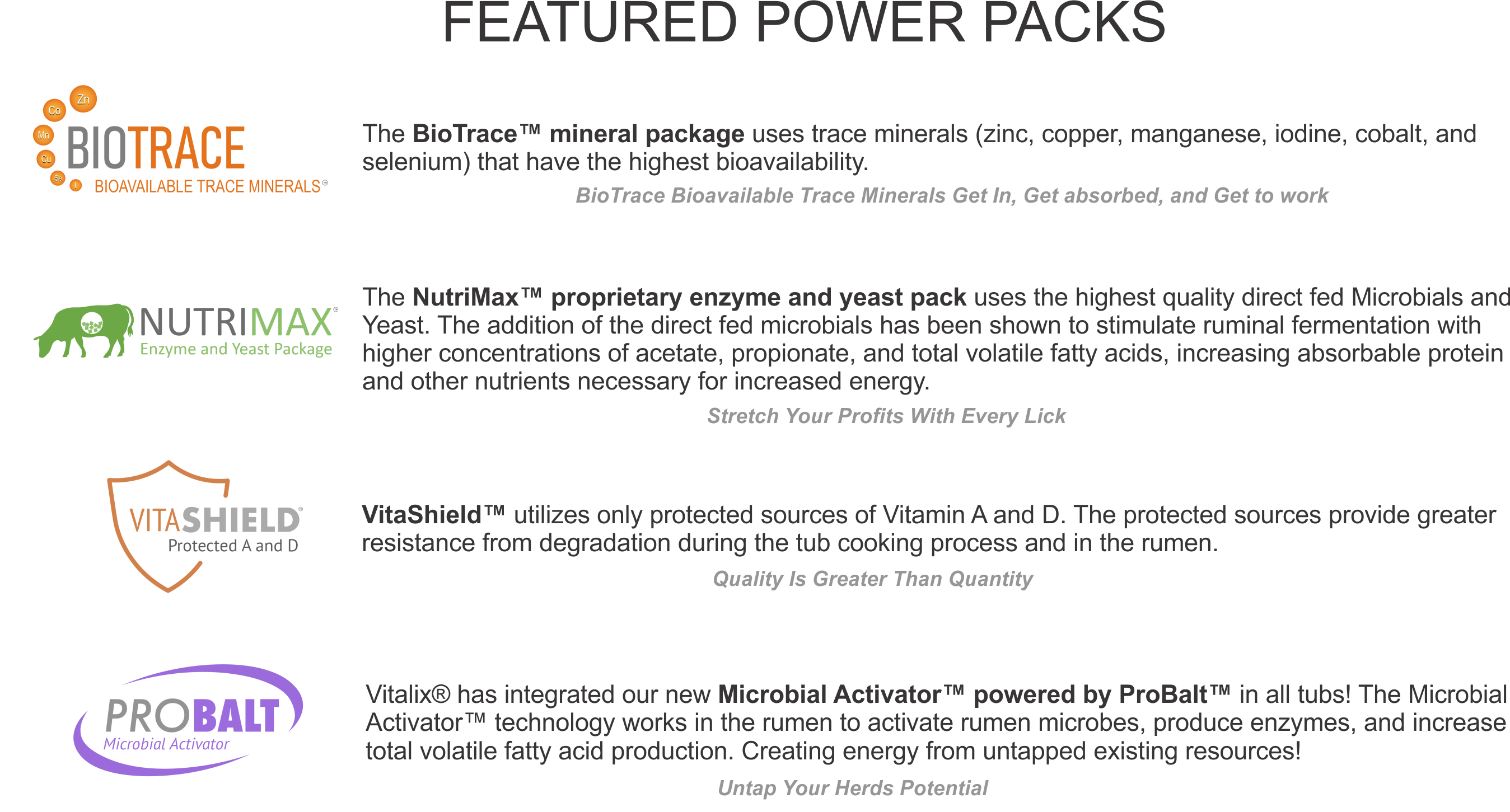 Available formulas:
#10 Breed Back
#10 Breed Back with MOS
#10 Breed Back Plus
#10 Elite Breeder
#10 Breed Back with Garlic
#10 Breed Back with Availa4
Does not contain any animal protein.
Do not feed to sheep due to possible copper toxicity.
| | |
| --- | --- |
| Tub Size | 250 lb., 200 lb., 125 lb., 50 lb., 20lb. |
| Tub Material | Plastic |
| Formulas Available | #10 Breed Back, #10 Breed Back with MOS, #10 Breed Back Plus, #10 Elite Breeder, #10 Breed Back W/ Altosid IGR, #10 Breed Back with Garlic, #10 Breed Back with Availa4 |
| Crude Protein, minimum | 18.00% |
| Crude Fat, minimum | 9.00% |
| Crude Fiber, minimum | 2.00% |
| Calcium (Ca), minimum | 2.00% |
| Calcium (Ca), maximum | 2.50% |
| Phosphorus (P), minimum | 1.00% |
| Magnesium (Mg), minimum | 1.50% |
| Potassium (K), minimum | 1.50% |
| Cobalt (Co), minimum | 27 ppm |
| Copper (Cu), minimum | 750 ppm |
| Iodine (I), minimum | 45 ppm |
| Manganese (Mn), minimum | 1,710 ppm |
| Selenium (Se), minimum | 6.2 ppm |
| Zinc (Zn), minimum | 1,710 ppm |
| Vitamin A, minimum | 130,000 IU/lb |
| Vitamin D3, minimum | 26,500 IU/lb |
| Vitamin E, minimum | 100 IU,lb |
| Ingredients | Beet Molasses, Vegetable Fat, Plant Protein Products, Flaxseed Meal, Processed Grain Byproducts, Monocalcium Phosphate, Dicalcium Phosphate, Calcium Carbonate, Magnesium Oxide, Yeast Culture, Selenium Yeast, Soybean Oil, Zinc Amino Acid Complex, Copper Chloride, Zinc Oxide, Zinc Sulfate, Vitamin E Supplement, Manganese Amino Acid Complex, Vitamin A Supplement, Copper Amino Acid Complex, Sodium Selenite, Mineral Oil, Ethylenediamine Dihydriodide, Cobalt Glucoheptonate, Thiamine Mononitrate. |
| | |
| | |
Feed 45 days pre-breeding and then 45-60 days post-breeding
Consumption: ¾ to 1½ lb. per
1000 lb. of body weight
Put one 250-lb tub out for every
15-25 head of cattle